Best Seller
New
In stock
Pre order
Sold Out
Curve Hem Henley T-Shirt: Forest
This Curve Hem Henley T-Shirt is our casual-formal design thats a must-have when you want to make an impression. These premium threads are designed for your everyday lifestyle and is our personal favorite weekend T-Shirt choice. With its three sleek buttons and the elevated curve hem design, this henley t-shirt is a selection you can't go wrong with. See Product Details below for more info.

Bundle Any 3 Shirts Site-Wide For 10% OFF. Use code BUNDLE10
Product Details
Fit & Size Chart
The shirt has a curved-hem design thats rounded at the bottom and slightly longer in length around the torso which gives your body a taller, slimmer impression. This shirt is also tailored in the Chest, Waist, Arms, and Length to give you the perfect fit every time you throw on this shirt. Click on "Not Sure About The Size" to find the right fit.
See Size Chart: Here
Fabric & Care
This fabric is our signature blend of 95% Cotton and 5% Elastane for a comfortable, soft, and flexible feel throughout your wear. This fabric is pre-shrunk, has four-way stretch, and color retention to last for years.

Model Info
Model is 6'1" wearing Size Large.
How To Wear
Pair up this shirt with the Jogger or some black jeans, and a pair of fresh white kicks for a clean and casual look.
Returns and Refunds
We have a 30-day return policy, which means you have 30 days after receiving your item to request a return. To be eligible for a return, your item must be in the same condition that you received it, unworn or unused, with tags, and in its original packaging.
Customer Reviews
08/10/2021
Curtis H.

United States
Finally found my perfect shirt!!
I have tried other brand such as Cuts, BYLT, and WYR. They were either to tight or loose. Decided to try RofT and I'm glad I did. It fits me perfectly. Plus, the price is excellent.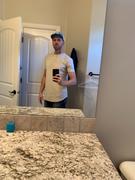 08/12/2021
Rule Of Threads
Love the fit dude- it's on point! Pumped you found your new favorite threads! - The R.O.T. Team
06/30/2021
Nick

United States
The perfect shirt
Better than cuts, better than bylt. It's that simple. Perfect length that falls at just the right spot, arms are perfect, neckline is perfect and the material is buttery soft yet still stretchy. Theres a reason everything is sold out...
06/30/2021
Rule Of Threads
Thanks for the dope review Nick and glad you like your new threads dude! - The R.O.T Team
Best fitting and feeling tees in the biz!
Bought a bunch of joggers a few months ago then made the decision to order a few shirts just recently. Ordering process is a breeze and delivery is super fast. But the highlight is how great everything fits and looks. The value for the kind of quality I got is just stellar. The shirts feel and look like they were tailored to me! In the process of ordering more colors and waiting for some new ones drop!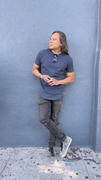 06/30/2021
Rule Of Threads
Appreciate the love Reuben and stoked you found your new favorite threads! - The R.O.T Team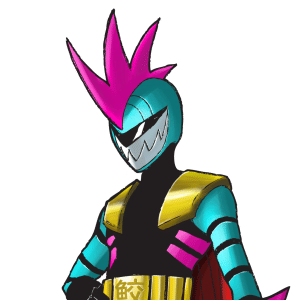 K
06/23/2021
Kerwin

United States
Wow. Great quality, great value.
I've been shopping for this style of tee for a while now, trying out different brands, but something has always been off. Whether it's the collar, the fit, the shoulders, the length, or the cost—something is always off every time I try to buy a curved hem tee and no brand has been reliable or satisfactory in any of these departments. Needless to say I was skeptical about this purchase as well, but yo...I just got these in the mail and they fit PERFECT. The material is durable, stretchy and breathable, with a nice texture to it. The fit is great, and the length is perfect and doesn't look like I'm wearing a dress. Goes great with shorts and pants. I bough two of these to try out, and (as cliché as it sounds) I'll definitely be buying more very soon. I am: 5'10" / 175 lbs. / muscular+atheltic build, and I bought the MEDIUM.
06/25/2021
Rule Of Threads
Love it dude and appreciate the trust in us! We're pumped you found your new favorite threads! - The R.O.T Team
05/18/2021
Gerald R.

United States
Excellent fit
By far the nicest T-shirt I own. The cut is perfect on sleeves and the curved hem falls at just the right spot. Very comfortable material.
05/19/2021
Rule Of Threads
Glad you like the new threads dude and appreciate the feedback!